I have this never-ending dream.
It's a vision that would be shared and shared on Pinterest if it ever came to
be. It revolves around gravel and stone pathways with salvaged brick borders.
Lining each side of the paths would be herbs and perennials and heirloom
variety roses and hydrangeas, just to name a few.
There would be little secret gardens, perfect for hiding away from reality
for a few hours with a glass of sweet tea and a sleepy cat curled in my lap.
Or better yet, a curious grandchild who loves Dr. Seuss and wants to know
why it's okay to eat green eggs and ham.
There would be arbors covered in sweet, Carolina jasmine vines that brazenly
reached for the sun to absorb it's delicious warmth.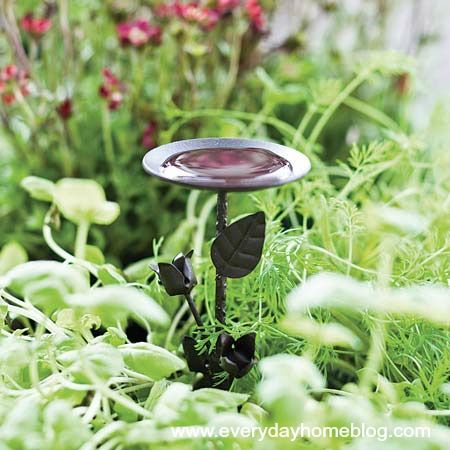 Special areas of the garden would be reserved for our little winged friends.
A colorful Butterfly Garden would become a haven for fluttering Monarchs –
where my grandchildren could watch and learn of the miracles of nature –
right before their eyes.
Bird baths would be plentiful… from stone to iron to handmade pots turned
upside down, covered in mosaic tiles made from vintage tea cups.
The entrance of the garden would be a work of art. Curly wrought-iron and
rusty latches that squeaked every time the gate was opened and closed.
But, it would be a welcoming sound – as the serenity inside those gates
would be where one could seek solace, or unwind after a long day.
A place where I could restore my center balance when the world was slightly
off kilter.
I would want it to be a beckoning place – where manicures were not given a
single thought as dirt and soil met naked skin. Where sweat, compost, and
gardening tools met with a myriad of pots and containers on a daily basis –
and they became fast and reliable friends.
It would be that kind of garden. English, Cottage, Country – all mixed
together in one space.
Where flowers and herbs and vegetables came together in a dance
choregraphed by Mother Nature herself.
It seems like something from a Fairy Tale, doesn't it? In many ways it is.
Dream Gardens like this are longed for by many, but truly owned by few.
Hence, I think my fascination with Fairy Gardens.
Every feature you can possibly imagine in your own dream garden can be
created in a Fairy Garden. Tiny benches and arbors and birdbaths…
Stone paths with miniature pots, and wheelbarrows for toiling away the
time.
I may not ever have the garden of my dreams. But, with a small wooden box
or a pretty clay container… I can create a symphony of miniature garden delights
that will surely please my soul.
Even on a tiny level.
And at night, when the innocent sleep, and the silence of the dark is permeated
only by the chorus of the crickets – I hope the Fairies come out from the woods
beyond – and revel in the beauty of this magical, little garden.
And laugh…and dance…and skip around the little fountains….and dream.
Just like I would do.
If you also love Fairy Gardens, but you don't know where to start…
I am beyond thrilled that Farmhouse Decor is will be selling Kits and
Accessories to create your own miniature wonderland. (look for them
starting on Monday, Aug 12th)
Three styles are available –
I'm trying to decide which one to use first. 🙂
Have a beautiful and "magical" weekend, everyone!
See you on Monday!
xxoo, Barb
Have you just discovered
The Everyday Home Blog?
If so, I would love for you to follow me
by email so you never miss an update!
Delivered by FeedBurner
You have my permission to pin any of these
pics, with my appreciation!